What: Fund raiser for the Wounded Warrior organization (via endurance regatta) We would provide music on Sunday morning.
When August 31 st (Sunday)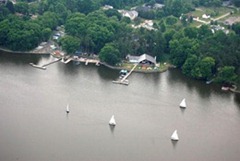 Location:  Leather Lips Yacht Club (on the west bank of the O"Shaughnessy Reservoir - Shawnee Drive - In Powell)
Please Leave a comment below saying "
Yes I'm In
" or something clever like that and include your
Name
if your Login Name isn't obviously you.
We need to determine whether there are enough participants to do this event. Be advised - this is Labor Day weekend. Thanks.